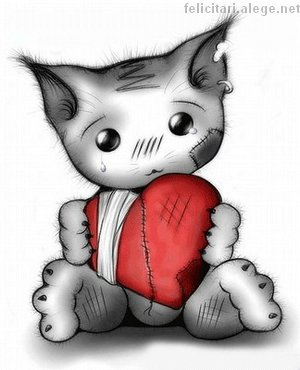 Even otakus fall in love as they say. They are also human beings. But if ever one encounters a certain relationship then it goes downhill, for some odd reason that's also a time where we seem to know a person's different ego. A different side that it leads down to an "it all comes down to this" feeling.
I seriously did not make this blog post to name names or to point fingers. I decided to write about this because I am getting pretty tired of hearing the same argument and reasons. Not only that, I don't want to get absorbed into too much negativity because of people's faults or actions. Yes, I am a true friend and I stick as a true friend. But if someone tries to abuse it and it gets so redundant, I am sorry but I have to lay my hands down to surrender. My usual sentence is "Don't come knocking at my door." I usually say these in my own composed melody to not only express my sarcasm but also to show people how I am already irritated on the types of issues coming up here and there.
Ok, I admit. I was fresh from a break-up. But hey, I am slowly moving on to what's been happening to me. Three years is just three years. I know it's going to be a long way for you but I would like to give you a bitchslap that life is hard and it's a challenge for you. It's either you move on and strive to be happy or you try to remain a douche all your life moping and crying.
Going back to my discussion, I know that people do crazy things when they are in love. But I just wish people really don't go overboard.  People nowadays are having wild hormones lately. Well, I cannot blame them. We are in the 21
st
Century. There are even some that seemed to be desperate and tends to rush on things. Hey, life's a journey. Age isn't a problem anyway too. That person will come to you in time. If your relationship with someone didn't work out, then move on. A true person or a lover for that matter never gives up hoping in finding that right girl or guy for her.
What really irritates me is that people try to make things bigger and bigger. No matter how much we try to keep a
dark
secret on the things that we do, they are going to be revealed in a time before you know it. Heed my advice: Get a grip. If you are just using the person to get your own satisfaction and benefit, then sooner or later everything's going to backfire back at you. I believe in Karma. It's going to attack you before you even know it.
My final word for this is that guys as what I've said life is going to throw you lemons. Of course, you need to make lemonade with it and not throw it back. It's going to make matters worse. Don't pretend who you are not. You're going to fool people that way and in the end, people will tend to fool you in return.  A true person also controls his hormones (Don't try to act dumb with me! I know you know what I really mean.), and most important of all,  a true person never reacts in revenge. This is reality. A little revenge that we did to people who have done wrong (even if the actions are said to be for good), is a double edged sword. You will be satisfied yes, but for how long?
Think about it.  Good luck.
A word from a concerned otaku and friend.